Perran3D, creating walk-through, 360 virtual property tours in Penzance and throughout West Cornwall
Virtual, 3D walk-through tours of homes and buildings for your web site




Creating interactive property tours
3D Showcases aren't your traditional virtual tours or simple 360s stitched together. They're a new form of immersive 3D media that invites your customers to explore a place as if they were really there. Like indoor Google Street View*, but for property, visitors can step inside a 3D Showcase and start exploring somewhere new.
3D Virtual Reality brings listings to life
3D Showcases engage customers with the most realistic way to experience a property online that lets homebuyers, holiday renters and visitors move through a property and see it from any angle. No only can visitors navigate the property, we provide a "dollhouse" view and interactive floorplan. Our VR tours are Virtual Reality-enabled, compatible with Google Cardboard and Samsung Gear VR.
The Ultimate Always-Open House
Increase instructions and property sales, improve holiday and residential lettings rates whilst reducing in-person viewings. No plug-ins or software required: we will deliver a simple link and embedded html to allow you to maximise the potential on your web site or listing.
Quick, efficient service and delivery
A typical UK house can be scanned, processed and "built" by our photographer in 24 hours. Larger buildings will take a little longer. Your 360 virtual tour can then be shared with customers to enjoy.
Professional photographers
Perran3D photography, based in Penzance, Cornwall, uses the latest Matterport Pro2, a rotating 3D scanning camera with an incredible 134MP capture. No special lighting is needed. Spatial scanning also produces room measurements that are 99% accurate and we can add labels for rooms and features of a property.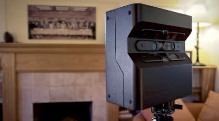 Perran3D is also a Google Street View Trusted photographer. We can publish entire VR tours right into Google Street View and Google Maps, the most visited platform on the internet!